B. Dolan "Stay Inspired" Remix Contest WINNERS!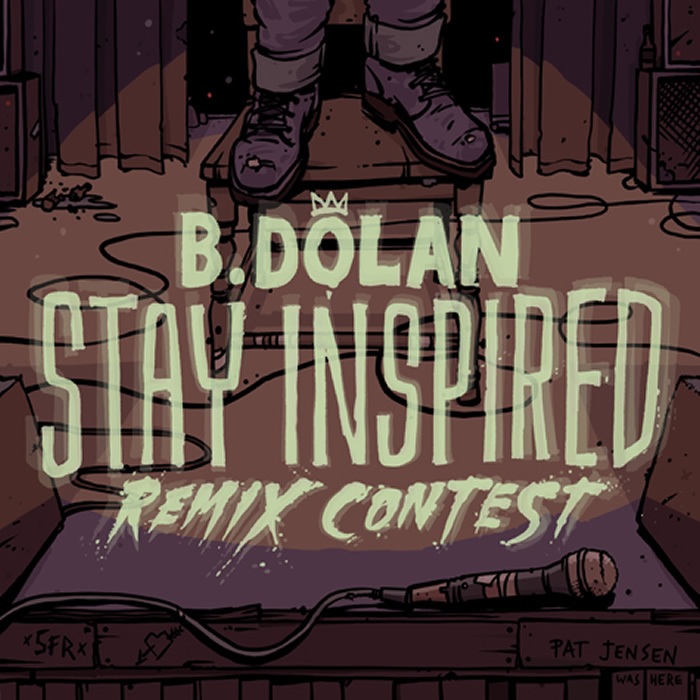 The B. Dolan "Stay Inspired" Remix Contest has ended!
Thanks to all of the producers who entered.
It was a tough decision, but the winners have been selected:
Congratulations to 80HRTZ, the overall victor,
and to MPCM, the 'People's Choice' popular vote winner!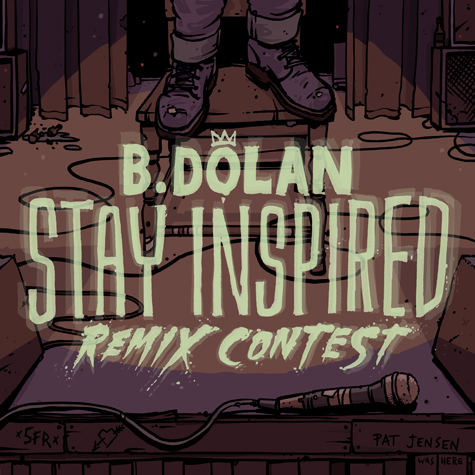 Words from B. Dolan himself on the contest & selecting the winner:
"Alright. I can't put this off anymore goddamit. I have to choose. This is hard. This is damn hard.

After careful consideration, and having listened to over 40 submissions… I'm awarding the win in the "Stay Inspired" Remix contest to…………………………………..80HRTZ!

and the People's Choice: MPCM!
There really were a lot of incredible entries, and as I listened through I made notes on those I wanted to give honorable mentions and feedback to… I'll post those below. Winners can send an email to [email protected] to collect their prize. Thanks to everyone that entered. And you know… Stay [email protected]#

Til next time,
B"
Listen to all of the entries:

B's commentary on each individual remix:
MPCM Remix – This one was so ambitious. The amount of change-ups and ideas going on was really intense and impressive. Mixing was a little iffy and I was not crazy about some of the sounds… I think as a result of trying to do so much some weaker things snuck in here and there… and for the sake of good songs I prefer when there's a central idea or riff things orbit around that is really strong… I don't know if this has that. My critical feedback might be 'less is more', but this person knows what they're doing and should keep doing' it, yo.
Hey Suburbia — I really dug the tone of this one, and think the producer matched the tone of the original song really well. It's not too dramatic or heavy, and there's an element of old school funky shit going on without sounding dated. It's super solid but I feel like with some punching up it could really kick me in the ass, and it doesn't totally. You got more right than you did wrong, and I'd love to hear this idea a tiny bit more fleshed out. Sort of the opposite of the problem MPCM had. Strong idea, but not ambitious enough somehow in execution.
Eli Grove — You can hear the central idea immediately, and it's real dope. I love the melodies going on here. Maybe a little more introspective than the original song justifies, but I enjoyed the beat so much I listened past that. Sounds might be a little stock and soft-synthy overall, and the drums don't kill me. The composition is really great though.
RST Remix — Holy shit this is hype. This is an M.O.P. song. I played this for Sage the other day and he agreed this is a tear-the-club up kinda joint. It's different than the original tone, but takes it to a new place by bringing out the intensity in the delivery. We're gonna need to talk about this beat, in fact.
Bloody Chubby Remix – I need to give this one an honorable mention for starting with the most WTF sample used in the entire contest. What is this from? How does it apply? We can only guess. But fam you kicked off the remix with a quote about zesty pickles. I like how minimal and bass-ey the beat is. Some of the delay might be gratuitous, and I wish it had sort of a stronger lead riff or sample instead of ambient guitars… but the arrangement and mood are very listenable and the ideas are good. Execution a little uneven… that pan effect made me wrinkle my nose a bit… Zesty pickles though man. I mean. You got my attention…
80HRTZ – Honorable mention for apparently recording all of the sounds used yourself, and not relying on soft synths or samples. It definitely shows in the dynamics of the sounds you're using. This is very much in line with the type of production we were doing on "Kill the Wolf", trying to get away from sounds that came out of a box. Some great counter rhythm stuff going on with the spoons or whatever that is, and the drum programming is on point and punchy.
Breaking The Rules Remix — Oh man do I love that chorus. You're on some Talking Heads shit elsewhere and I'm into it. It might not be all the way there yet— the drum sounds were not the illest and overall execution of the ideas was up and down… but I'm definitely interested in what you're doing. That chorus melody is beautiful. There's a hit somewhere in that. Make that a new song and build everything around that, please.
Wasaru Remix — A dope ass beat. I don't know if it matches the tone of the lyrics or song, but I could see a very expansive story happening over this one. Dope composition…. and somewhere in there some crazy shit happened that incorporated 'one breath left'… dang.
Pete Sasqwax — Bonus points for tracking down the original chorus samples and using them in a new way. Really dig these drum sounds and the overall mood and mix. Nice vibe. Maybe more relaxed than the original but I nodded my head all the way through.
JesperOrkester — Lot of cool shit going on with this one, and it stood out due to it's use of samples over soft-synths. Some really intricate interesting shit going on here. It got muddy at times, and delay and or reverb might be being overused. I love the overall effect though, even if it may have been a bit darker than the subject matter needed it to be. Lot of talent on display here.
Flawed Logic — Another very cool one. May have gotten a little muddy and busy in the mid to low end, between the booming drums, guitars and other stuff going on, but there's a lot of cool ideas happening at once. Probably my favorite sample used in this contest. Chucky B FTW. This was a strong contender for the number one spot… goddamn judging these is hard.
The original version of "Stay Inspired" is available on B's "KILL THE WOLF" album, available on 2xLP Colored Vinyl, limited edition blood red Cassette, SIGNED CD, and MP3 at http://bitly.com/BDolanKTW