SFdigi's 1st release: WHEELCHAIR SPORTS CAMP "No Big Deal" is out now!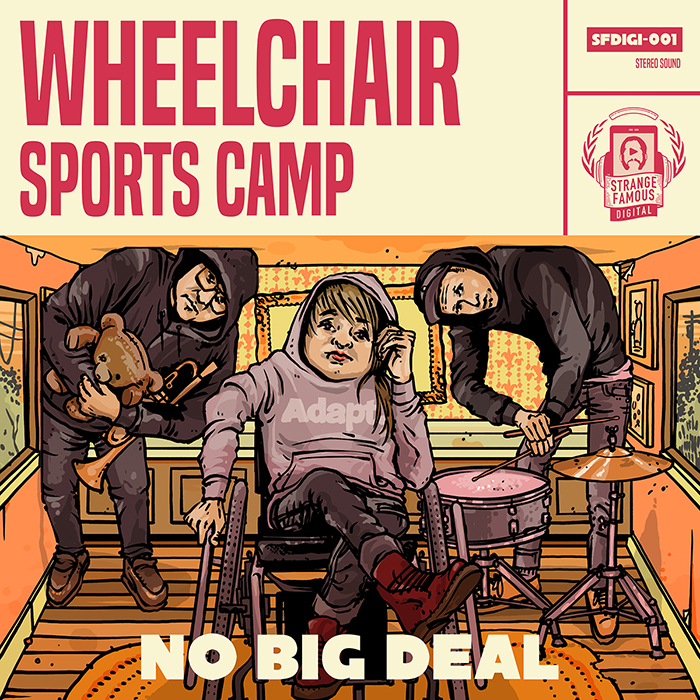 SFdigi is proud to present NO BIG DEAL, the first official studio album from Denver's WHEELCHAIR SPORTS CAMP, produced by the late, great IKEY OWENS (Jack White, The Mars Volta, Free Moral Agents). "No Big Deal" is available now!
Cop yours on MP3 Download, special edition CD, or Cassette here, or get your LIMITED EDITION 7-Inch Lathe Cut Record Package Deal here. 
This musical milestone details the signature experience of WSC lead vocalist, Kalyn Heffernan, a shit-talking emcee and activist whose unique circumstance provides perspective unlike those heard almost anywhere.
Wheelchair Sports Camp first got their start in 2008 combining humor, playfulness, radical politics, compassion, and a love for rhyme schemes. In 2016, not only are hometown Colorado beatmakers involved, but their album features talents from Los Angeles, Canada, and the U.K., while overall production duties were left to the legendary Ikey Owens shortly before his tragic passing in 2014. This is a family affair for Heffernan (vocals), Joshua Trinidad (trumpet), and Gregg Ziemba (drums), who have toured extensively together for the past several years, often alongside their STRANGE FAMOUS cohorts.
"Mary Had A Little Band", the FIRST VIDEO from the album, was premiered by HipHopDX!
"The last time I met with Ikey was to catch up on life stuff and discuss his work with WSC," explains SFdigi label boss SAGE FRANCIS. "Despite being a music virtuoso and seasoned producer, he seemed equally excited as he was nervous to tackle a hip-hop project. We discussed what style of music might best suit Kalyn, but from everything I had heard it was all on the right path."
Check out the awesome animated video for "Thunder"!
Ultimately, Owens stripped apart the original compositions that the band brought to the studio and weaved his own weird sonic tapestry, merging live instruments with electronic compositions that lend an exciting and distinctive vibe to the project. While Ikey rebuilt the tracks, Kalyn composed the majority of the album's lyrics almost completely on the fly in-studio.
Despite the tongue-in-cheek title of the album, this means a great deal in the sonic journey of an already well celebrated hip-hop band. It represents a significant move from DIY mixtapes to a proper release with evolved quality of sound and songwriting. WSC has cemented their transition by signing with SFdigi, a brand new imprint under the STRANGE FAMOUS RECORDS banner.
"If there were ever a moment for a queer, disabled rapper with a love for pot, jokes, and revolution to be a star, the moment is now" – Village Voice

Photo Credit: Chris Bagley | Photo Edit: Hugo Lopez
TRACKLISTING
all songs produced by Isaiah "Ikey" Owens
co-produced by Kalyn Heffernan
1. Mary Had A Little Band (

4:40

) 
ft. Felix Fast4Ward
4. Hindsight (

3:32

) 
ft. Venus Cruz
5.  Same Shit (

3:34

) 
ft. Rubedo
6. Take Stairs in Case of Fire (

3:29

)
7. Thunder (

4:07

) 
ft. Kyle Gray
8. Whistle While You Work (

3:43

)
9. Honey Don't Go (

4:47

) 
ft. Jen Korte
10. Talk My Way Out (

2:52

)
Bonus Track
11. Hard Out Here for a Gimp (

3:25

)